Rakoon Sound Studios is a modern-day music production and recording facility designed for the needs of the contemporary musician. Our studio offers state of the art equipment in a comfortable and inspiring setting. It is located in the heart of Midtown, Miami surrounded by cafes, restaurants, and bars.
Our customers can use a wide range of tools for the most demanding audio projects. The studio features a mighty control room with an all-analog mixing desk and a vast selection of instruments with a world class monitoring system in a great sounding room.
Two other acoustically treated live rooms are also available for the recording vocals or live instrumentation. Clients can also relax from a rigorous session in our lounge area, which also features a club standard DJ setup.
We offer friendly and professional service with our experienced staff of producers and engineers. Our goal is to share our knowledge and dedication to help artists reach their full creative potential.
'Studio A' is the control room and heart of Rakoon Sound Studios. It is an intricate playground of electronic instruments, all connected to the powerful 24 channel SSL XL Desk for instant multi-tracking.
This room is  designed for musicians to quickly develop musical ideas and immediately record. The room is also well equipped for  mixing and post-production work.
The room is also well equipped for mixing and post-production work.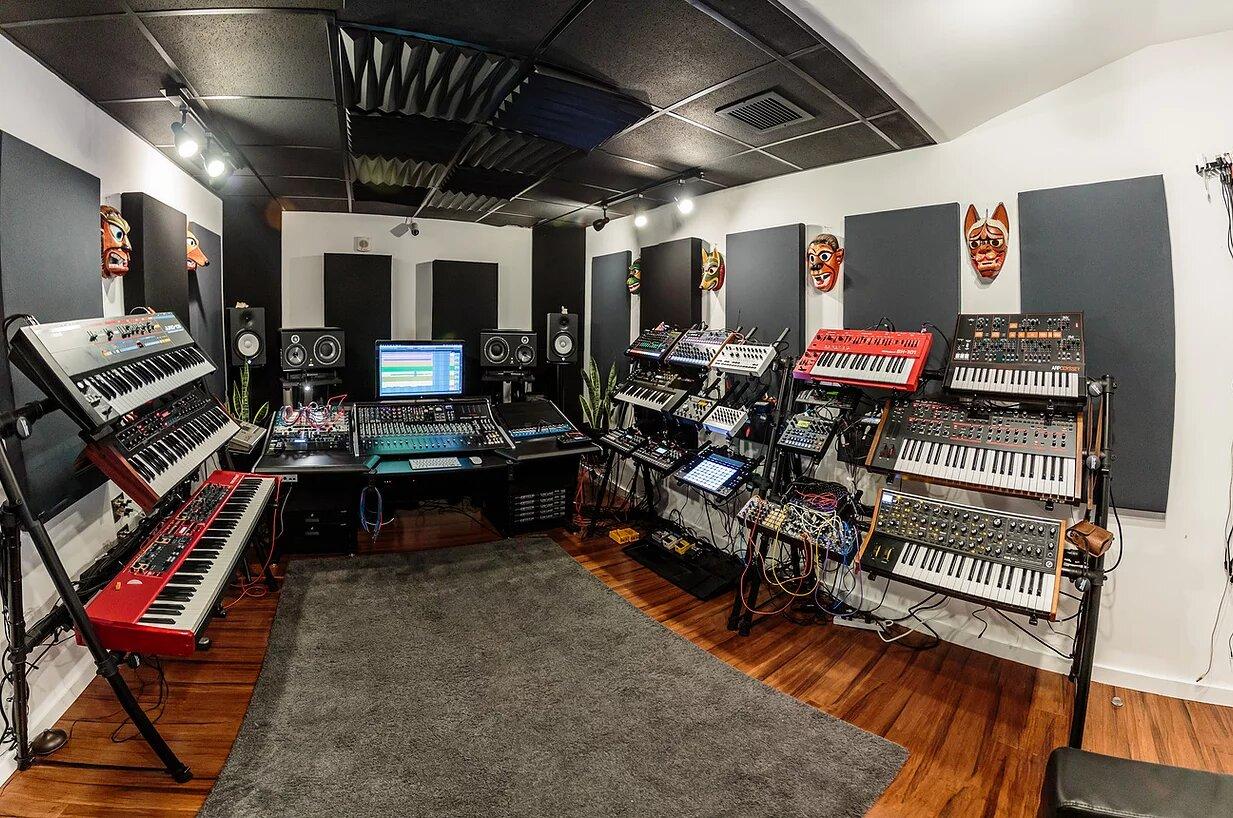 'Studio B' is the live room of Rakoon Sound Studios. It is excellent for recording live instrumentation and jamming sessions.
The space also serves as a rehearsal spot for artists and small groups of live musicians.
This room is also equipped with state of the art production and performance gear. The rig is ready for live performance rehearsal and it has multiple preamps available for computer recording; making it also a powerful production studio.
'Studio C' is the vocal booth at the studio. It is an intimate space for artists to relax and express themselves. Connections run to Studio A for immediate recording.
The Lounge in Rakoon Sound Studios is a great place to relax, eat, or get a cup of coffee. This space also has a DJ booth with club standard equipment for DJ rehearsals, lessons and showcases.
The lounge area also serves as a conference room for seminars, workshops and lectures.
Pro Tools
Ableton Live 9 Suite
Logic Pro
Mac Pro
Tascam Portastudio 424
UAD (Various)
Ableton Live
Pro Tools
Logic
Native Instruments Komplete
Universal Audio Apollo QUAD
Universal Audio Apollo 16
Focal SM9 (2)
Yamaha HS8 (2)
KRK Rokit 5 (4)
Sub Pac
Advanced Audio CM12-SE
Advanced Audio CM87 (2)
Advanced Audio C414 (2)
Advanced Audio CM47
Lexicon mx 400
Pioneer EFX-1000
Elekron Analog Heat
Univox EC-80A Tape Echo
Electro Harmonix Memory Boy
Boss DD7 Digital 
Boss ODB 3
Boss RV 6
SSL 611 EQ (2)
Rupert Neve Designs 551 EQ (2)
API 550A 3 Band EQ (2)
Avedis E27 (2)
SSL 611DYN (2)
API 527 (2)
Retro Double Wide Tube
JLM Audio LA500 Opto
JLM Audio FC500 FET
SSL G Bus Compressor
BAE 1073 DMP
SSL VHD (8)
BAE 312A/D
2 Channels Mic Pre / Di
Nord Stage 2 88Keys
DSI Prophet 08
Elektron Analog Rytm
Elektron Analog Keys
Elektron Octatrack
Elektron Digitone
Elektron Digitakt
Roland Juno 106
Roland TR 8
Roland TR8 S
Roland TR-08
Roland TR-09
Arturia Drum Brute
Roland TB-03
Roland SH-01A
Roland SH-101
Roland D-05
Avalon Bassline
Make Noise System Cartesian
MFB Tanzbar Lite
Cyclone TT 303
Moog Sub 37
TE Op-1
Novation Circuit
Korg Volca FM
Korg Volca Bass
Arp Odyssey 2015
DSI Pro 2
Pioneer CDJ 2000 (2)
Pioneer XDJ 1000 (2)
Allen & Heath Xone 92 DJ Mixer
Pioneer DJM 750 MK2 DJ Mixer
We welcome you to call us
for any general service enquiries.